How good is Check24's C24 Free Bank Account in Germany? Is it worth using the free version, or is it better to opt for one of the paid account models, such as Plus or Max?
In this guide, I share the features of this free bank account in germany, highlighting its advantages and disadvantages. Whether it's worthwhile to upgrade to the premium versions of C24 bank account and how you can obtain the most important extras for free.
WHAT YOU WILL LEARN
C24 Bank Free Bank Account in Germany
Let's begin by discussing the advantages of the free bank account offered by C24 bank.
Free Account Management with the C24 Bank Account
With the smart account from C24, you won't have to pay any account management fees, and there are no specific conditions to fulfill. There is no monthly minimum payment requirement or anything of that sort.
Additionally, along with the Free Bank Account in Germany, you'll receive a Free Mastercard debit card, which can be used for payments and cash withdrawals.
Earn Cashback on Card Payments with the C24 Mastercard
Cashback for card payments. By using the Mastercard, you'll receive a cashback of 0.05% for each payment made with the free Smart Account. Additionally, there is an opportunity to earn up to 2.5% campaign cashback for participating in specific campaigns.
The campaign cashback is credited in the form of points, which can later be exchanged for money. This cashback offer might be appealing if you were planning to make use of the featured offers anyway. It's important to note that a maximum of €100 in cashback per month is possible.
However, with a base cashback rate of 0.05%, it is relatively low. With the Payback American Express Credit Card you can get much more in terms of Cashback.
Free Cash Withdrawals in the Eurozone with the C24 Account
With the C24 account, you can withdraw money up to 4 times a month without any charges in the eurozone. However, to be eligible for this, you need to have an active account with at least 2 direct debits per month.
For instance, having your monthly electricity bill and mobile phone bill debited would be sufficient. In the absence of direct debits, you can make 2 free withdrawals per month, and each additional withdrawal would cost €2. Withdrawals made in countries outside the eurozone incur a fee of 1.75% plus €2.
Convenient Cash Deposits
Depositing cash can be challenging with many banks. However, with the C24 account, cash deposits are possible through two methods, albeit with a relatively small fee.
Firstly, through a partnership with Reisebank, you can deposit cash up to 5,000 euros for a fee of 7.50 euros, and larger amounts for a fee of 15 euros. Secondly, you can also make cash deposits of up to 999 euros for a fee of 1.75% at various branches of Rewe, Real, Rossmann, dm and many others
No Charges for Card Payments in Eurozone Countries
Card payments are exempt from charges in all countries where the euro is the national currency. However, with the C24 Smart account, there is a foreign currency fee of 1.75% applicable to payments made in currencies other than the euro.
This fee can be avoided by using one of the C24 premium accounts or the credit card mentioned below in the video description.
Automatic Contract Recognition and Optimization with C24
As this free bank account in Germany is from Check24 . The C24 bank offers the Check24 comparison portal in the background, offering automatic contract recognition and optimization.
Payments for contracts and subscriptions are automatically recognized, and you receive suggestions for cheaper providers. No other account in Germany provides this feature. Please hit the like button if you are getting value from this video and consider subscribing.
Manage Multiple Bank Accounts with the C24 Multibanking App
In the C24 app, you can not only manage your C24 account but also your accounts at other banks. This consolidated view allows you to have everything in one place.
Additionally, you can use Google Pay and Apple Pay for mobile payments with the C24 account's Mastercard. This means that mobile payments are possible on both Android and iOS smartphones and smartwatches. The use of Apple Pay and Google Pay is free of charge.
Create Free Sub-Accounts for Better Savings Organization
In the free Smart tariff, you can create up to 4 sub-accounts known as "pockets." These pockets allow you to save money for various purposes. Each pocket can be given individual names and savings goals for better organization.
Pockets can also be shared with others, functioning as a joint account. You can also save together towards a common savings goal. Additionally, there is a call money pocket that offers an interest rate of 1.75% per annum.
The paid account versions allow for more pockets to be created, shared with more participants, and come with a higher maximum investment amount for the interest-bearing pocket.
Real-Time Transfers and Overdraft Option with C24
Real-time transfers and Overdraft. With C24, you have the ability to make real-time transfers. However, with the free C24 Smart account, each outgoing transfer incurs a cost of 99 cents.
Additioanlly you have the possibility to overdraft with an interest rate of 7.49% effective annual interest. But as a viewer of Ahsan Finance you know that overdrafting is a huge mistake. That said let me know in the comments if you have ever used this option.
Switching Banks Made Easy with C24's Free Account Switching Service
Free account switching service. C24 provides an automatic account switching service that allows you to switch your account to C24 in just 10 minutes. The software automatically recognizes standing orders, incoming payments, and direct debits.
You have the flexibility to specify which of these should be transferred to your new account, making the account switching process hassle-free and paperwork-free.
Disadvantages of C24 Bank Account
In addition to the numerous advantages, there are also some disadvantages associated with the free C24 account, which we will now discuss.
Foreign currency fees
With the free account, there is a 1.75% foreign currency fee, along with a 2 euro withdrawal fee, when withdrawing money outside the euro zone. Additionally, when making card payments in currencies other than the euro, a 1.75% foreign currency fee is charged.
To avoid these fees and bypass the limitations on free money withdrawals both domestically and internationally, you can choose one of the paid premium accounts offered by C24
Data usage
Your account transactions are utilized for analysis purposes in order to optimize contracts and subscriptions. This might be a deal breaker if you do not want to share such data with C24 bank.
Upgrade Options: C24 Plus and C24 Max Accounts
C24 bank offers paid option with their free bank account in Germany:
C24 Plus is €5.90 per month and the C24 max is €9.9 per month.
With C24 plus you can get upto 5% cash back, 4 virtual mastercards and 6 virtual pockets. You also get ARAG account and purchase protection.
With C24 Max you can get upto 10% cash back, 8 birtual mastercars and 8 pocket accounts. You also get priority customer service and free allianz insurance benefits.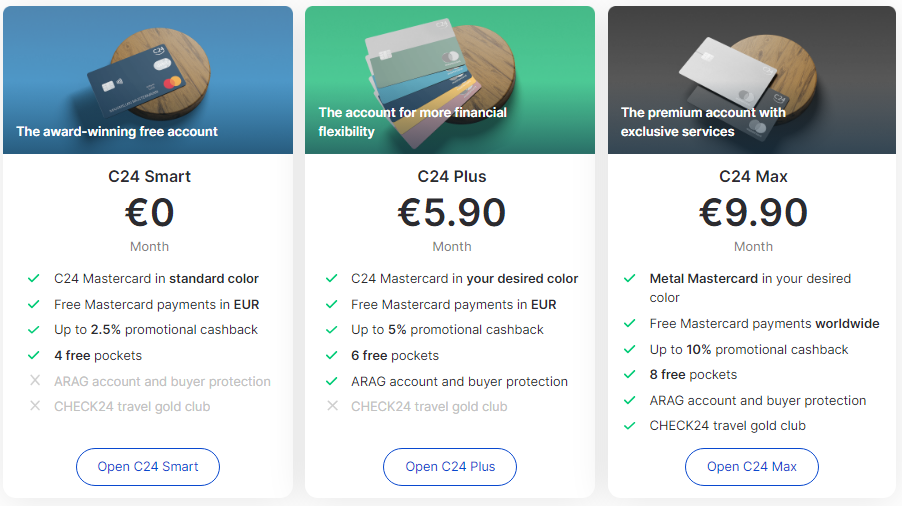 Is the C24 Free Bank Account Worth It? Weighing the Pros and Cons
The free bank account in Germany from C24 bank is appealing because it can be managed without any charges or conditions, such as a minimum monthly payment. Additionally using the Smart account, you can easily bypass the restrictions on the frequency of free cash withdrawals and foreign currency fees when using it outside the Eurozone.
But if you think this bank account is not for you, you can check out my comparision of other free bank accounts in Germany.
Disclaimer: None of the content in this article is meant to be considered as investment advice, as I am not a financial expert and am only sharing my experience with stock investing. The information is based on my own research and is only accurate at the time of posting this article but may not be accurate at the time you are reading it.