Are you looking for a current account that offers a range of advantages and special features? Look no further than the DKB account! In this video, we'll be taking a closer look at what makes the DKB one of the most popular free bank accounts in Germany, the pros and cons of this free bank account.
By the end you will know whether the account is worthwhile for you and how you can optimally supplement it to get the most out of it.
Deutsche Kreditbank AG, DKB for short, is currently the second largest direct bank in Germany after ING in terms of the number of customers. The current account is the bank's most frequently used product.
But how good is the DKB current account? Let's start with The key Features of the DKB current account
Free to set up and maintain
The account can be managed free of charge With the DKB account, no account management fees are charged if you ensure a monthly minimum incoming payment of at least 700 euros. This does not have to be a salary receipt or anything similar.
You can also avoid account management fees by making your own transfers. This is specially great if you want to open an account for your spouse who does not have a job. Through the regular receipt of money, you also become a so-called active customer, which brings further advantages.
In addition to this, account management is totally free if you are under the age of 28 – even if you do not have regular cash receipts.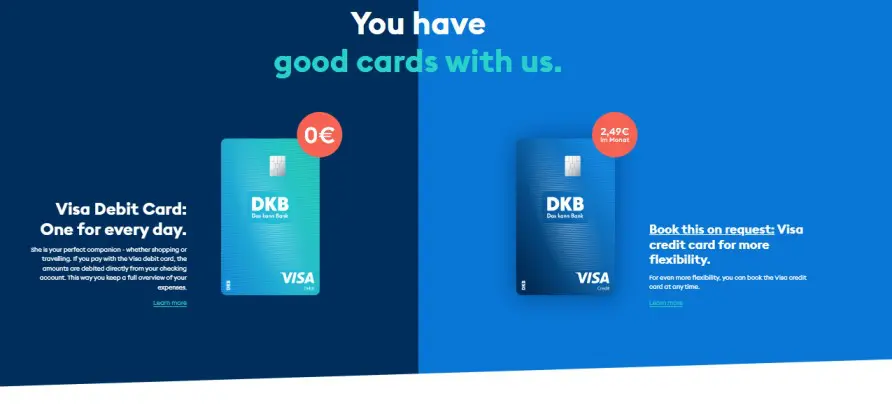 Free DKB Visa Debit Card
The DKB account includes a free Visa card that doesn't have any monthly or annual fees. This Visa card is a debit card, which means that any payments made using the card are immediately deducted from the associated checking account.
Additionally, for a monthly fee of 2.49 euros (or 29.88 euros per year), you can choose to obtain a real Visa credit card, although this is not necessary. An alternative option is to supplement the DKB account with a free credit card, which doesn't require any monthly fees and can be used worldwide free of charge. This means that in addition to the free debit card, you can also enjoy the benefits of a credit card at no extra cost.
The Visa card included with the DKB account is equipped with an NFC chip, which enables contactless payment. This means that you can pay for amounts up to 50 euros without the need for a PIN or signature.
Free worldwide ATM withdrawals
With the DKB Visa card, you can withdraw money for free from any ATM with the Visa symbol in Germany and the euro zone. If you are an active customer, meaning that you ensure a monthly cash receipt of at least 700 euros, you can withdraw money for free worldwide without any foreign currency fees.
However, if you do not have an active account, a 2.2% foreign currency fee will be charged when withdrawing money from currencies other than the euro. Additionally, you can use the Visa card to withdraw money for free at dm drugstore branches and Shell gas stations without any minimum purchase value, and at Aldi Süd branches with a minimum purchase of 5 euros.
You can also book a GiroCard for 99 cents a month, which allows you to withdraw cash for free at various supermarkets such as Rewe, Penny, Netto, Edeka, Aldi Süd, the drugstore dm, and toom DIY stores. However, a minimum purchase value of 10 or 20 euros applies in these cases.
DKB Account Cash Withdrawal Limit
With the DKB account, you can withdraw up to 1,000 euros per day from the ATM. This is a significant advantage, as many other accounts have a maximum daily withdrawal limit of only 500 euros.
Free Payments in the EU zone
With the DKB account, you can make card payments for free in Germany and all other countries that use the euro as their national currency. If you have a minimum monthly income of 700 euros, you can also make free card payments in countries that use other currencies.
However, if you don't meet this requirement, a 2.2% foreign currency fee will be charged for making card payments, just as with withdrawing money.
Apple Pay and Google Pay
You can make mobile payments with Apple Pay and Google Pay using the DKB account. This service is available for both Apple and Android devices, allowing you to use your smartphone or smartwatch for contactless payments. Additionally, there are no charges for using Apple Pay or Google Pay with your DKB account.
Free emergency card replacement
The DKB account provides a unique benefit of a free emergency package. If you lose your Visa card while traveling abroad or if it gets stolen, you can easily request an emergency card or cash. Typically, the delivery time for the emergency package is within 48 hours by courier. To use this service however, you must be an active DKB customer.
Card Control with DKB Account
The DKB account provides a feature called Card Control, which enables you to manage all essential functions of your card. For instance, you can block the card for cash withdrawals or usage abroad.
You can also temporarily deactivate your Visa card if it's not needed or if it's misplaced. To reactivate it, you can simply do so through the app.
The DKB account offers a simple online account change service, which allows you to transfer all direct debits and standing orders to your DKB account. This service is provided free of charge.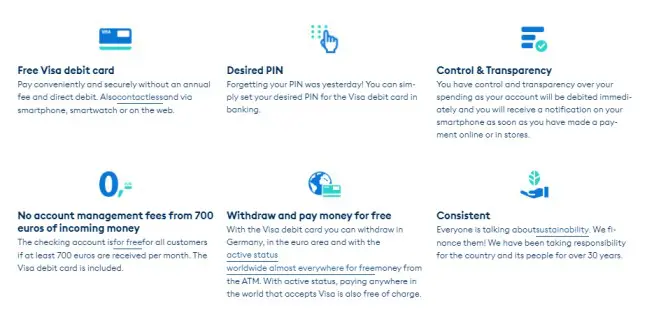 Main drawbacks of a DKB account
The feature list of the DKB bank account is quite large.s you can see from the list mentioned above, DKB's popularity is primarily due to its free product and services.
Although it's budget-friendly, there are still a few disadvantages associated with the DKB account, which I will outline for you now despite its many benefits.
DKB Account Management Fee
There may be an account management fee If you are not under 28 years old or ensure a minimum deposit of 700 euros, an account management fee will be charged. This is then EUR 4.50 per month.
Minimum amount for Cash Withdrawal using DBK account
When withdrawing cash from ATMs with standard settings, there is a minimum withdrawal amount of 50 euros per transaction. This means that smaller amounts cannot be withdrawn using this method. However, you can opt for the mini-cash option, which allows you to withdraw smaller amounts on request.
Please note that this option incurs a monthly cost of 15 euros. Alternatively, you can choose to have smaller amounts paid out for free at Shell petrol stations and other stores.
No Free Credit Card with DKB Account
The Visa card provided with the DKB account is a debit card, not a genuine credit card. This means that payments are not collected and billed together at the end of the month. Instead, each transaction is debited directly from your account.
However, some car rental companies may only accept credit cards, in which case we recommend checking out our credit card recommendation linked below the video. This credit card can be used with any current account, has no annual fee, and can be used worldwide free of charge.
English Customer support with DKB
DKB is a popular choice among Germans, which is why many expats and non-German speakers may compare DKB with N26 while living in Germany. One key factor to consider in this comparison is that DKB only operates in German, in terms of their customer service hotline.
However, in my personal experience, I have not encountered many situations where I needed to call their customer service. And their mobile app works perfectly in English language so I do not see this as a deal breaker for many!
Physical branches of DBK
If you are searching for a free day-to-day transactional account, then DKB is a suitable option. However, it's essential to note that DKB is a fully online bank and does not offer in-person support or have physical branches.
If you have more intricate banking requirements or would prefer to receive guidance on savings, investments, loans, mortgages, and so forth, then you may feel more at ease with a conventional "bricks-and-mortar" bank, such as Deutsche Bank or Commerzbank.
Rejection of DKB Account
Even if you decide that Deutsche Kreditbank (DKB) is the right bank for you, you may not have the final say on the matter. In fact, it's estimated that over 50% of sign-ups are declined by DKB.
While DKB typically doesn't provide reasons for the rejections, it's often due to poor or inadequate credit rating or SCHUFA Score, Your employment status or A low salary
Is the DKB Bank account worth it?
Well The free bank account from DKB is a great option if you can ensure a minimum monthly payment of 700 euros, which can be achieved by personal transfers or several small cash receipts that total at least 700 euros.
With this monthly receipt, not only is account management free of charge, but you can also use the Visa card included free of charge worldwide for withdrawing money and making card payments without any fees. No other checking account currently offers this benefit. You can find a link to the account under the video.
Conclusion
Please note that withdrawals from ATMs are only free three times a month and only in Germany. However, you can withdraw cash without any fees in shops such as dm, Penny, Aldi Süd, and many more without any limit.
In addition to the checking account , its recommend to have an account-independent credit card, which doesnt directly debit payments from your account. This is ideal if you want to use a genuine credit card with the DKB account in addition to the free Visa debit card. If you want to save the 30 euros charged by the DKB for the genuine credit card you can read my guide where I compare two of my favourite free credit cards in Germany.
This article contains Affiliate links, I may earn a commission if you use the link and make an account at no additional cost to you
Disclaimer: None of the content in this article is meant to be considered as investment advice, as I am not a financial expert and am only sharing my experience with stock investing. The information is based on my own research and is only accurate at the time of posting this article but may not be accurate at the time you are reading it.