Are you struggling to land job interviews or thesis opportunities in Germany? It can be tough, but I'm here to help! In this guide, I'll be sharing some insider tips on crafting a top-notch German-style CV that'll Get you Hired Faster in German. From language choice to formatting to personal information, I've got you covered. So if you want to learn how to stand out from the crowd and land that dream job or internship, you are at the right place!
Should a German CV or Resume be in English or German?
When it comes to writing a CV , Resume or "Lebenslauf" , the first question that comes in mind of international students or job seekers is which language should you write your resume in, either English or German?
Well, it all depends on the job posting. If the company needs someone with just English language skills, then go on with English language and write your resume in English.
However, if the company needs someone with good English and German language skills, then it's preferred that you write your resume in German language as it'll increase the chances for you to land that interview. Same goes for the Cover letter.
Which CV format to use in Germany?
Many students and job seekers use the Eurostar resume format thinking that this is the Standard in Germany however, that's not the correct .
Unless it is explicitly said in the job posting that you have to use an X or Y format, you should use the standard German format.

Now, this format has many variations. Generally speaking, the first thing at the top would be your personal information alongside with your picture.
What to include in Professional Experience Section?
Then comes your professional experience, in reverse-chronological. Describing your most recent job first and moving backward in time for every subsequent position.
Here you write the time frame of your job on the left. On the right side you have the name of the company first, then your job title and then maybe a line or two describing your tasks. You can flip the job title and the company name it depends on what you want to put the most emphasis on.

Education Section for CV in Germany
Next you have your Education. Here again you should use the same method as the Professional Experience. So reverse chronological with the time frame on the left , name of the degree and educational institute name on the right. Then add a line or two on the degree focus then Add your GPA. Here you DONT have to mention every single thing, so if you have a masters degree you dont have to add details of your school, unless you think there is something remarkable about it.
Then add any special skills that you have, your language details and most importantly dont forget to add your hobbies. You might not think its important but trust me it hold great value more on that later on.
How to take a photo for a German CV?
I've seen many applications specially from sub Continental students and Job seekers. That in their resumes they have that really awkward picture having either a blue or white background looking dead in the camera, like. This is something that the Germans cannot comprehend.
Whenever you are applying for a job in Germany, use a photo in which you're smiling. It's not your passport photo and it's not required to have a specific background color.
Try to share a picture where you are smiling, if you wear glasses dont worry share a picture with your glasses. Also please update your picture, if you have gained weight and you share an old picture where you were thin.
Why having CV Photo is important in Germany?
Let say you get an interview call, what do you think will happen if they expect someone and you look nothing like your picture? Im not saying that its bad to gain a few pound or loose some but Its better to be honest. Most of the times we are our own critics and we shouldnt be. I remember I had this picture taken by a professional photographer in the university. I lost maybe 10kg after that, but I continued using the same picture. In one of my interviews the first thing the interviewer said was that I look nothing like my picture and I felt quite embarassed. So please use a recent picture.
Just ask a friend to take a photo for you, it can be a neutral background, and with the smartphones that we have today, you can take a portrait mode photo in a bright area. Having trees in the background, it would look really great. You can use canva or other websites to do some light editing to make it look even more professional
Biggest mistake internationals make in their CV for Germany
And that would be not filling the personal information area completely. By this I mean you haven't provided either your address, your telephone number, or you have a really old email address that says not quite professional.
Please create a new email address and not use that weird, email address that you've been using since you were a kid. Make it professional so that other people also take you seriously.
Too little or Too much experience?
Maybe you have worked in many companies but this does not mean that You have to list every single job you ever had. Pick the most recent one and a few others that would be relevant for the position you are applying for. . If on the other hand you dont have much work experience you can always write about any side jobs you had in the past. All that matters is how you phrase it.
Its imperative that the listed work experience is relevant. So for example, the job position or the internship you're applying for is looking for someone with software skills. It's ideal that you provide those Work Experiences in which you have applied or used those software skills.
Instead of listing every single thing chronologically, provide the relevant information. Because people who are reading your resume, don't have that much time to look Deep into everything.
Some people might even take it negatively. I can speak of that from personal experience.
Why Students struggle in Getting offers in Germany?
A while back, a student contacted me regarding a thesis position that we had in our company. The student shared their resume with me. They had so much information saying that they perfectly skilled with six or seven different programming languages.
They were able to do circuit designing, measuring station development, software development, microcontroller programming, Android app development. So many things. It might be possible that this student knew all of those things and it's totally possible that this student was really skilled.
However, it's highly unlikely that someone with that many skills is really good at every single thing. yeah, everyone embellishes their resume a little bit, but be careful because that might also be a really negative point for you.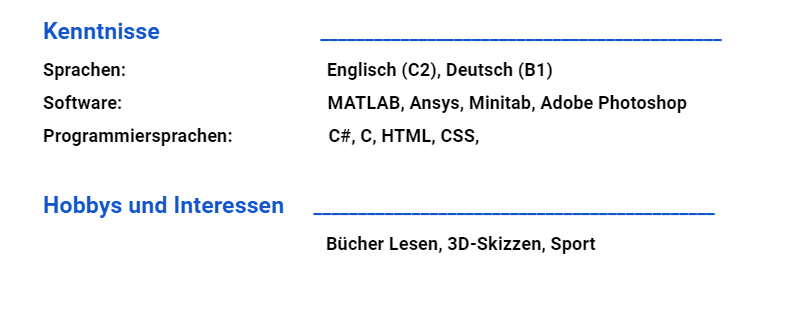 The Importance of Hobby Section in German CV
You might not think that hobbies is not an important section, but believe me, it plays a really large role. Especially if you do not have much work experience. Every single point that you put in your hobby section can mean something else.
For example, if you write down that you like reading books. This can relate to you being good at reading a lot of documentation. Many hobbies can relate to other skills this way.
Why you should not list Microsoft Office in your CV in Germany!
In the skills section please do not put Microsoft Office. If it's explicitly required in the job posting, that they need someone with Word, Powerpoint and other MS Office skills then it's okay. Write it down. But if it's not written there, do not put it in your resume.
These days it is nothing special that you know Microsoft Word. PowerPoint or Excel. Instead of putting Microsoft Office, maybe think about another software that's important, for your job posting. Maybe a tool that you know, something else that can be complimentary to the job posting.
One thing that I can recommend is that you search for a Project management course, there are a lot of them available for free. Take that online project management course and write it down in your resume as it may increase your chances of landing that interview.
Tips to help you Get Hired Faster in Germany
The next time you see a job, thesis or internship posting that you find interesting here is what I want you to do
1. Customize your resume for each job
Read the job description carefully to identify the key skills and experiences required for the job
Tailor your resume to highlight your relevant experience and accomplishments
Use keywords from the job description to help your resume get past the automated screening tools
Have a look at the most in demand jobs in Germany and get an idea of what they need
2. Highlight your skills and achievements
Use bullet points to list your most impressive accomplishments and make them easy to find
Quantify your achievements with numbers and percentages to make them more impactful
Use a professional tone and avoid generic phrases like "team player" or "detail-oriented" in your CV in Germany
3. Use strong action verbs
Use active verbs to describe your accomplishments and demonstrate your leadership and initiative
Avoid passive phrases like "responsible for" or "involved in"
Use a variety of verbs to keep your language engaging and interesting
4. Keep it concise and easy to read
Stick to one or two pages and use a clear and easy-to-read font
Use bullet points to make your information easy to scan
5. Avoid common CV mistakes
Proofread carefully for typos and formatting errors
Use consistent formatting throughout your resume
Don't include irrelevant information
Always double-check your contact information to make sure it's accurate and up-to-date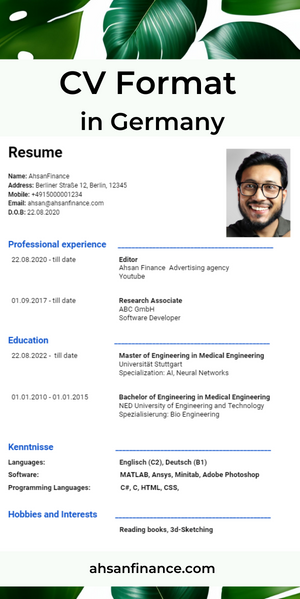 Frequently Asked Questions
What format to use in German CV
There is no name for this format but you can search for "Lebenslauf vorlage" or read this article for more details
Which language to use while applying for a Job or Internship in Germany
The best option would be to use German language. However it depends on the job or internship requirements. Remember that if you write your resume in German you will be expected to speak in German if you get an interview call (at least initially).
Is it resume or CV in Germany?
The word for Resume or CV in German is "Lebenslauf". When writing in English you can use either CV or Resume.
Should I put a photo on my CV in Germany?
Yes, many companies prefer candidates who have a picture in their resume. That being said it is not necessary if you are not comfortable putting it there.
How long should German CV be?
Try to keep things within 1 page. But in many cases this is not possible that is why German CVs are an average of 2 pages long.
This article contains Affiliate links, I may earn a commission if you use the link and make an account at no additional cost to you
Disclaimer: None of the content in this article is meant to be considered as investment advice, as I am not a financial expert and am only sharing my experience with stock investing. The information is based on my own research and is only accurate at the time of posting this article but may not be accurate at the time you are reading it.