I have been an eToro user since December 2020 but I did not know that you can stake Tron (TRX) and Cardano (ADA) to earn Staking rewards with crypto staking in eToro!
What is staking?
Staking is a process that allows rewards to be earned by holders of a specific coin.
Staking derives from the PoS (Proof-of-stake) mechanism, used by a distributed blockchain network, where blockchain miners can mine or validate block transactions according to how many coins they have. The more coins they hold, the more mining power they have. Staking rewards are shared with users who own the cryptoassets (like eToro and our clients) and who delegate their voting rights to staking pools. The more validations that are delegated to a staking pool, the higher chance of being elected to produce the next block, and the more rewards likely to be received.
You can also stake Tron and cardano on etoro. At the moment eToro only supports staking Tron and Cardano but they are planning to add support to other cryptocurrencies as well.
So how can you actually stake Tron and Cardano.
Well the only thing you have to do is buy Tron or Cardano or both using the eToro platform and just hold it. You do not have to do anything else to start earning staking rewards. At the moment you can only stake crypto that you have bought using eToro as there is no way to transfer crypto from an external wallet or an exchange into the eToro trading platform.
Staking is a great way to earn staking rewards
But exactly how much can you earn? Well this depends on
Your eToro membership level
How many days you have been staking your coins
and How many coins do you hold
To find which eToro membership level you are currently at just look right next to your profile picture on eToro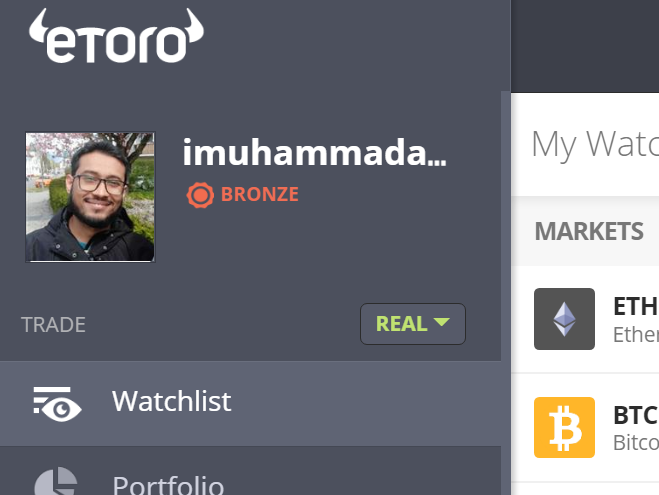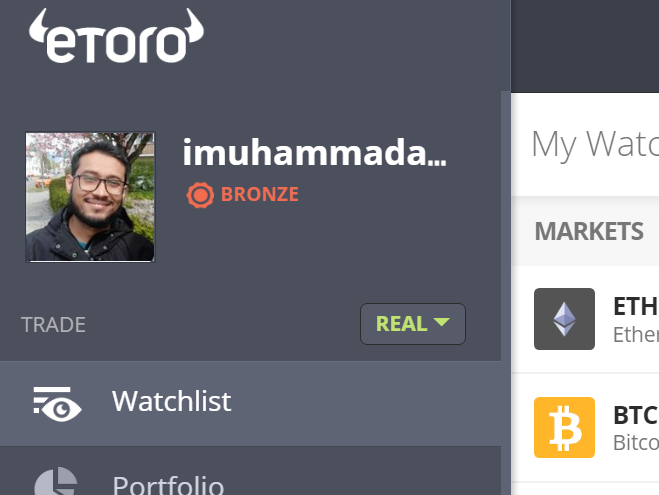 If you have bronze you get 75% of the staking reward, 85% with silver,gold and platinum and 90% with diamond and platinum+ Club levels.
The rest of the amount is taken by etoro as fees and service costs
How long you stake ADA and TRX
You need to hold Cardano for atleast 9 days and Tron for at least 7 days before your crypto is eligible for staking. So from the 10th day onwards for Cardano and 8th day onwards for Tron will be calculated as you staking starting days
So if you are actively trading the number of Coins you hold can change from day to day, so what eToro does is they create A daily snapshot of each user's holdings at 00:00 GMT. This shows each user's eligible staking units for all of their open positions. At the end of each month, the total of all the month's snapshots are divided according to the number of days in the month, producing an average daily amount. The average daily amount is the basic amount on which the calculations are made to get the individual user's monthly reward.
Staking rewards calculations:
To calculate the monthly yield per cryptoasset eToro divides the total number of new coins (AKA the total sum of the reward) for the month by the total average daily amount of all eligible staking users.
Example:
In the month of September 500,000 ADA coins were received on eToro as the staking reward.
For the same month, the total average daily amount of ADA held by eligible staking users was 10,000,000 ADA coins.
Therefore, the calculation will be 500,000 divided by 10,000,000, resulting in a monthly yield of 0.4%.
The amount of a reward must be of a value that is no less than 1 USD for it to be paid out.
I have 100 euros worth ADA and got paid 3.4 for the month of May.
Taxes on Staking
Staking is a taxable event and each time you get a staking reward this should be noted in your taxes. In Germany if you hold your crypto for more than a year this crypto becomes tax free but if the amount is less than 256€ you can include it in Capital income. However if the amount exceeds this limit, you will have to pay taxes on the whole amount! So be sure to think about taxes when you are earning Passive Income with Crypto Staking on eToro staking TRON and CARDANO
Related Videos:
🌍 How to Open Trade Republic Account
🌍 How to Open Scalable Capital Account
🌍 Investing Guide for beginners
🌍 How to buy Bitcoin in Germany
*None of this is meant to be considered as investment advice, as I am not a financial expert and am only sharing my experience with stock investing. The information is taken from the official etoro pages and other sources. The video and articles are accurate as of the posting date but may not be accurate in the future .
eToro is a multi-asset platform which offers both investing in stocks and cryptoassets, as well as trading CFDs.
Please note that CFDs are complex instruments and come with a high risk of losing money rapidly due to leverage. 67% of retail investor accounts lose money when trading CFDs with this provider. You should consider whether you understand how CFDs work, and whether you can afford to take the high risk of losing your money.
Past performance is not an indication of future results. Trading history presented is less than 5 complete years and may not suffice as basis for investment decision.
Copy trading is a portfolio management service, provided by eToro (Europe) Ltd., which is authorised and regulated by the Cyprus Securities and Exchange Commission.
Cryptoassets are volatile instruments which can fluctuate widely in a very short timeframe and therefore are not appropriate for all investors. Other than via CFDs, trading cryptoassets is unregulated and therefore is not supervised by any EU regulatory framework.